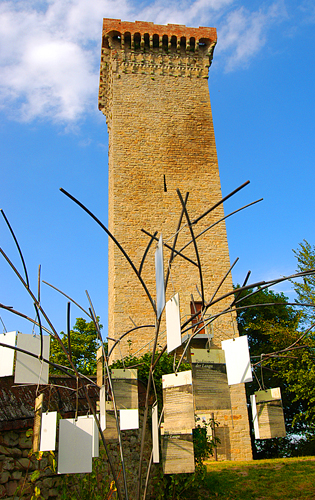 Murazzano is full of elegant and refined buildings, and is called "Piedmont's shield and key" because of its strategic position.
Its tower is thirty-three metres high; it is perfectly square and built with stones of highest quality; it is the best well-kept tower among the many watchtowers which were built on the Higher Langa hills as the Saracens often plundered this region.
The Shrine of the Madonna di Hal with the Buzignano Gate, which marked the boundary of the old town, and the Church of San Lorenzo are worth seeing; we suggest you also visit the beautiful Tovegni Palace, which was built in an eclectic style and shows two majestic Art Nouveau dormer windows, and to the Wind Mill, which was first built as a watchtower and then turned into a mill for corn.

Theme of the stop: "Langa traditions"
Farm work was never-ending, it required continuous dedication and care in order to keep the pace with the changing of the seasons.
Feasts and spare time in the Langa were regulated by religion: the Sunday Mass, the pilgrimages and the patron festivals; marriages were organized with the help of the traditional figure of the bacialé (matchmaker).
Gambling and betting were among the most appreciated recreational activities, together with card playing in the taverns and along the streets, and the "balon" (handball) in the square.
This sport has become a part of the local culture of Langhe and Roero, since it also mirrors the most salient features of this folk: so stubborn and so sweet in their love for traditions at the same time.
Download the map in pdf format or watch the video: